June 2021
Dear [firstname]
Welcome to the 10th edition of Oxleas Engage.
Many of you may recall we ran an extensive engagement programme called Our Next Step just over a year ago. This gathered a wide range of people's views and feedback to help us shape a strategy for Oxleas for the coming years. Progress on this work was held back by the pandemic but we are now really pleased to share our new strategy with you.
As well as our members, I also support your governors who represent you on our Council of Governors. You can click here to find out who they are. They are really keen to build stronger links with you, their members, to find out your views about the trust and they welcome your feedback. The easiest way to contact a governor is to email oxl-tr.governors@nhs.net or call 01322 625752 and leave a message with the Trust Secretary's office and a governor will get back to you.
Governors cannot deal with personal matters about your or your family's care at Oxleas, you should contact our Patient Advice and Liaison Services (PALS) to discuss any issues around your treatment and care.
Our governors also need your help to increase our young members and members who have used our Forensic and Prison Services. There's more information below.
Our Council of Governors is meeting virtually this afternoon (17 June 2021). You can view the live meeting here at 2.30pm or you can view it later.
I hope you can help us.
Kind regards
Jo Mant
Head of Stakeholder Enagement
Oxleas NHS Foundation Trust
t: 020 38715617
Twitter: @JoMant2
---
Oxleas' Strategy 2021-2024
We would like to thank you for taking part in the Our Next Step discussions last year to learn what was important to you and how you thought Oxleas should develop in the coming years. The ideas our members, people using our services, carers, Oxleas' staff and local organisations shared, alongside some of the lessons we have learned through the Covid pandemic, have been used to create our strategy for 2021–2024. This strategy, which includes new values for Oxleas, was approved by our Board of Directors and your Council of Governors in March 2021.
Our new values, we're kind, we're fair, we listen, we care, resonate with the way Covid has impacted our communities and underline our resolve to challenge inequalities. The trust will now get the work underway to make these strategic aims a reality.
The three big priorities for our strategy are:
Achieving zero delays

Delivering great out of hospital care

Making Oxleas a great place to work.
These are underpinned by eight building blocks for change:
Quality Management

Bolstering our service user, patient, carer involvement and co-production

Creating a safety and learning culture

Increasing our focus on service inequalities

Effective partnership working

Reducing violence, aggression and abuse against our staff

Increasing digital and remote service delivery

Making best use of our resources.
You can read more about this, view a short film and download our strategy by visiting Our strategy - Oxleas NHS Foundation Trust
The trust will be having events to take this work forward and if you want to be part of this please contact us by emailing oxl-tr.foundationtrust@nhs.net or by calling the Membership line on 0300 123 1541.
---
Keeping you safe

Click here to find up to date information on our services, NHS advice and guidance to other national and local support resources.
---
How have you been coping during the pandemic?

We know it's been a tough year for everyone and people have found different ways to get through the lockdowns and not seeing their friends and families.
Some of our ResearchNet colleagues have been sharing how they have been coping, what has worked well and what hasn't worked as well for them. Click here to find out what some of them had to say.
You may find some of our Common Foundations webinars helpful. These are a range of webinars co-facilitated by Oxleas' Lived Experience Practitioners (someone who has lived experience of mental health problems, and mental health services) and Health Care Professionals for people who have difficulty managing emotions and in interpersonal relationships.
---
Can you help us?
We have two groups within our Service User/Carer constituency where membership is under-represented - Children and Forensic and Prison. We'd like people to join these membership groups so that the views of people who use these services provided by Oxleas are heard at our Council of Governors' meetings.
Anyone aged 14 and over who is using, or caring for someone using, either of these services now or within the last five years, can become a member of these interest groups. There is no time commitment to joining these groups but we may ask you to share your feedback and opinions through surveys or focus groups in the future.
We have very few young members and as a local NHS provider of children and young people's services and a large local employer, it would be great to increase the number of young people who are members of the trust. We are currently looking at ways in which we can make membership more relevant to young people - if you have any ideas please email our governors - oxl-tr.governors@nhs.net
We currently have no members in our Forensic and Prison interest group. Again, if anyone has been through, or is the carer of someone who has been through the criminal justice system at HMP Belmarsh, HMP Thameside, HMP/YOI ISIS, HMP Wandsworth, HMP Rochester, HMP Maidstone, HMP/YOI Cookham Wood, HMP East Sutton Park, HMP Elmley, HMP Standford Hill or HMP Swaleside, and accessed health services whilst there within the last five years, they may be eligible to join this interest group.
People who have used,or cared for someone using our Forensic services at the Bracton Centre and the Memorial Hospital within the last five years may also be eligible to join this interest group.
People can, of course, also join our Public constituencies if they wish rather than the Service User/Carer constituency, it's entirely up to them.
If you know someone who may be interested in becoming a member, please send them the following link:
https://secure.membra.co.uk/OxleasApplicationForm/
---
A message from Our Healthier South East London - Integrated Care System for South East London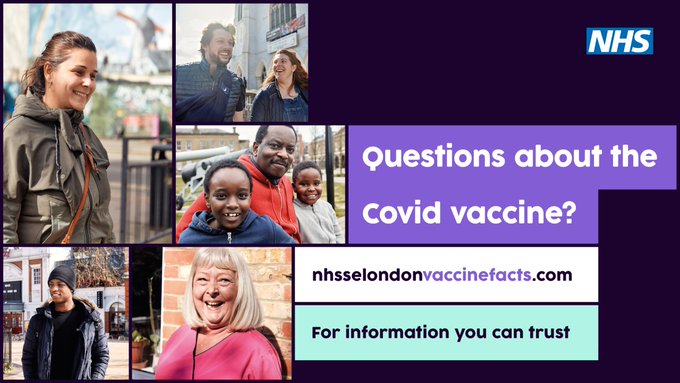 We want to ensure our South East London communities can access COVID Vaccine information they can trust.
Head to http://nhsselondonvaccinefacts.com for answers to common questions, and hear from people in South East London who've had their vaccine.
---
Look after your health and wellbeing
Public Health England has expanded its range of resources to help you look after your and your family's wellbeing.

Every Mind Matters provides simple tips and advice to start taking better care of your mental health.
You can access free easy ten minute work outs from Public Health England.
NHS Fitness Studio has exercises you can do at home.
Sport England also has tips for keeping active at home.
The Every Mind Matters sleep page provides practical advice on how to improve your sleep.
Visit the NHS mental health and wellbeing advice website for self-assessment, audio guides and practical tools, if you are experiencing stress, feelings of anxiety or low mood.
Kooth is free, safe and anonymous online support for young people.
London's digital wellbeing service, Good Thinking , provides a number of free NHS-approved apps and other resources to support you if you feel anxious, sleep deprived, stressed or sad. Good Thinking has published specific resources to support the mental health and wellbeing of Londoners during COVID-19.
---
Check out our YouTube channel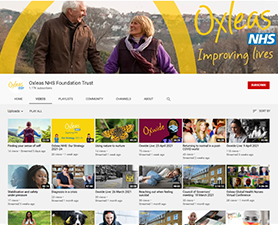 There are a wide range of recordings on our YouTube channel such as our Board of Directors and Council of Governors' meetings, OxWide and Common Foundations.
---
To unsubscribe to membership communications and cancel your membership please click here. Your personal details will be removed from our membership system.