We at Oxleas, alongside our partners in the South London Partnership, want to connect with thousands of people across south London through the South London Listens campaign.
Covid-19 has impacted the mental wellbeing of many people and now we must work together to protect and support each other. Citizens UK is working with local community groups, mental health trusts and local authorities to reach out and listen to communities in the boroughs of Bexley, Bromley, Croydon, Greenwich, Lambeth, Lewisham and Southwark, Kingston, Merton, Richmond, Sutton and Wandsworth.
The South London Listens campaign gives us the opportunity to listen to what is important to our community about their mental health during this challenging time. Taking part in listening means getting involved in creating action about what matters most to you and your community.
To support this, free training sessions are taking place on 6th and 7th January 2021. To find out more and how to take part, please click on the information sheet PDF or visit the sign-up page.
---
College partners with NHS to support its 'mission-critical' vaccine roll out
London South East Colleges has been selected as a partner by Oxleas to support the imminent roll out of the Covid-19 vaccine.
The NHS is recruiting both clinical/healthcare staff and support staff from local communities across Bromley, Bexley, Lewisham and Greenwich - aiming to secure a workforce that can deliver the biggest immunisation programme of our time, both now and over the coming months.
The College is assisting by providing essential training to candidates, preparing them to enter the NHS recruitment process as well as supporting experienced staff already working in the NHS. A huge number of roles need to be filled – from clinical staff to deliver the vaccine, through to administration support and customer service roles.
For people with no previous healthcare experience, an entry to employment package – the "Get Ready" programme - has been developed by Oxleas and the College. This will provide participants with the skills, knowledge and behaviours to support them to access the job opportunities generated by the vaccination programme; laying the foundation for an exciting career within the NHS.
A dedicated NHS Careers page has been set up on London South East Colleges' website.
.
COVID-19 Vaccination Programme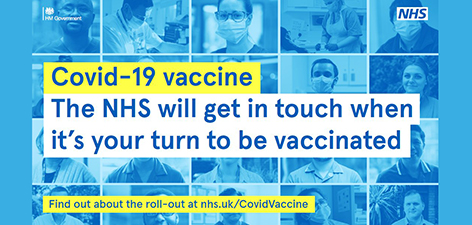 The first phase of the NHS COVID-19 vaccination programme has begun. Please help the NHS and do not contact your GP surgery asking for a vaccination. The NHS will be in touch when it's your turn to be vaccinated.
When it is the right time people will receive an invitation to come forward. For most people this will be a letter, either from their GP or from NHS England. This letter will include all the information a person will need to book appointments, including their NHS number.
We are asking the public not to contact the NHS to get an appointment until they get their letter.
Please continue to follow the recommended guidance including regularly washing your hands, wearing a mask and keeping a safe distance. Help us control the virus and save lives.
This is going to be a long-term vaccination programme and it will likely take until at least Spring before all high-risk groups have been offered a COVID-19 vaccine. When you are contacted and offered the vaccination, please attend your booked appointment.
Information on the vaccine is available on this South East London Clinical Commissioning Group page.
Advice on EU exit
As EU Exit news continues to be a prominent feature in the headlines and we approach the end of the Transition phase, it's is important to keep in mind that it's 'business as usual' for the NHS. We have prepared some useful advice and guidance for Oxleas' staff and patients, which may help with any queries.
---
To unsubscribe to membership communications and cancel your membership please click here. Your personal details will be removed from our membership system.